Force USA Leg Press Hack Squat Combo Reviews
The Force USA Ultimate Leg Press & Hack Squat Combo is a 2-in-1 machine that is ideal for those who are serious about Leg Day. Specifically engineered to help you develop your lower body strength and to build muscle in your legs, this machine combines a Leg Press and a Hack Squat machine all in one easy-to-assemble leg strength training machine. 
What's Included in the Box? 
With this leg press & Hack Squat Combo machine, you receive everything that you need to get you started on your Leg Day. Items that come shipped with this machine include: 
Band Pegs (x4)
Calf Block
Commercial-Grade Vinyl Upholstery
Dual Support Beams
Foot Plate
Plate Holders
Plate Storage Horns (x4)
Steel Mainframe
Ultra Thick Laminated Wood Base
It should be noted that the Force USA Super Bands are sold separately if you wish to include them as a part of your workout routine.
Key Features of the Force USA Ultimate Leg Press & Hack Squat Combo
This 2-in-one leg strengthening machine offers a number of benefits for those who are looking to improve their workout. Some of the key features incluee: 
2-in-1 Machine
Space-Saving Design
1000 Pound Weight Rating
Quick Assembly
Lifetime Structural Warranty
Dimensions of the Force USA Leg Press & Hack Squat Combo
This 2-in-one Leg Press and Hack Squat combo machine offers a space-saving design by combining two different machines into one. Measuring 60 inches tall, 66 inches wide and 94 inches deep, the machine weighs a total of 463 pounds.  The oversized foot plate provides you with ample space for adjusting your feet with a total surface of 26 inches long and 22 inches wide. Constructed from extra-sturdy 13-gauge steel construction and 11-gauge steel joints and stress points, the machine offers a weight rating of 1000 pounds.
Boasting dual floor support beams for maximum rigidity and stability paired with a 2-inch by 4-inch steel mainframe, the machine offers a superior range of motion for users as tall as seven feet tall. For added versatility and safety, the machine features five safety lockout positions, five racking positions and six band peg positions. It also includes a Calf Block to assist with calf-focused workouts as well as four plate storage horns and additional plate holders beneath the sled.
Top 5 Reasons to Buy the Force USA Leg Press & Hack Squat Combo
There are many reasons why you should seriously consider adding the Force USA Ultimate Leg Press & Hack Squat Combo machine to your home gym. The top 5 reasons to purchase this machine include:
Focus On Lower Body Muscles: With its 45 degree leg press and hack squat combo, this machine is specifically engineered to help you work on your lower body muscles. These include your quads, glutes, hamstrings and calves.
Quick Switchover: Unlike other combo machines on the market, this 2-in-one leg strengthening machine can be easily switched from the Leg Press to the Hack Squat. Not only does this save you time, but it also helps to keep your routine running smoothly so you can get the most out of your workout.
Variation: This machine is designed in such away that it allows you to effectively vary your workout in order to better achieve your fitness goals. The Hack Squat allows you to target your hips, quadriceps and glutes with deeper squats and varied foot positions so you can achieve a wide range of motions and isolations. Meanwhile, the Leg Press features an oversized footplate that allows you to vary your stance so you can place a greater emphasis on specific leg muscles. The Hack Squat padding and handles have also been lengthened with this machine, making it possible to accommodate users up to seven feet tall. With everything being fully adjustable, including the angle of the back pad and foot plate, you can easily make adjustments with a simple pull of a pop-pin.
Comfort: This machine is designed to help make your workout as comfortable as possible. The comfortable seat on the leg press helps to prevent aching in your behind as you performer your presses, while the oversized footplate allows you to place your feet in the space that is most comfortable for your body size. In addition, thanks to the Force USA Hover-Glide mechanism, the machine feels ultra smooth while in motion. For added back support, the machine features commercial-grade DuraCore padding and VorTex upholstery, allowing for ergonomic movements that help to protect your knees from impact stress.
Quality Construction: The Force USA Ultimate Leg Press & Hack Squat Combo machine is made from laser-cut, powder-coated 13-gauge steel construction with 11-gauge steel joints and stress points, which means it provides you with quality that you can count on for years to come. Meanwhile, the dual floor support beams offer maximum rigidity and stability while the safety rail handles on both sides and adjustable safety catch both offer a high level of safety while allowing you to max out your workout.
Force USA Leg Press Hack Squat Combo Review Summary
Used by high-performances trainers, strength training coaches, persona trainers and athletes, this machine is a must-have for anyone who is serious about lower body development. According to one satisfied customer, the Force USA Ultimate Leg Press & Hack Combo "is a very sturdy machine and glides smoothly on the rail system".  Another describes it as being of "superior quality, strength and stability," while another notes that "the leg press is impressive to say the least and built for eternity".
In terms of assembly, one user noted that "assembly was a breeze and everything was packaged well" while another said "the instructions made assembling the machine very easy". Others noted that the Force USA customer service "is also on point with a quick response time". When using the machine, another notes that it is "very solid" and that the "range of motion is great" with "large foot platforms for [a] variety of foot placements". Customers have also noted that it is "easy to transition from hack to press".
Force USA Leg Press Hack Squat Reviews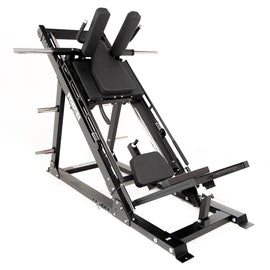 Ultimate 45 Degree Leg Press Hack Squat Combo
Order Now