Force USA G3 Reviews
If you are tired of going to the gym or you are simply looking for a more convenient and economical way to bring the gym home to you, the Force USA G3 All-In-One Trainer may be just what you need.
Combining five different machines into one compact machine, this trainer is designed to replace the need to have multiple machines in order to get a well-rounded strength training workout.
With its sleek design and sturdy construction, the trainer offers a safe and space-saving alternative to many of the singular machines that are currently on the market. 
What's Included in the Box? 
When you purchase the Force USA G3 All-In-One Trainer, you get everything you need to get started other than the actual weights. Included in the box are all of the following components:
Ankle Strap
Attachment Storage Holders
Band Pegs (x4)
Bar Storage Holders
Cambered Bar
J-Hooks
Landmine Attachment + Handle
Multi-Grip Chin Up Bar
Nylon Stirrup Handles
Olympic Weight Spring Clips (x12)
Safety Spotter Arms
Small Grip Frame Bar
Standard Weight Spring Clips (x12)
Straight Bar
Tricep Pull-Down rope 
V-Type Handle
Weight Plate Storage (x6)
Weight Plate Storage Holders
Several optional attachments are also available and sold separately. Some of the optional attachments you may want to consider for your rack include:
Chin Up Bar
Lat Pull Down Seat
Leg Press
Stability Bar
Key Features of the Force USA G3
The Force USA G3 All-In-One Trainer offers versatility as you are able to perform a variety of different strength training exercises with just one machine. Some of the key features of this particular rack include:
5-In-1 Strength Training System

Chin Up Station
Core Trainer
Functional Trainer
Power Rack
Smith Machine

Over 75 Exercise Variations Possible
2,000 Pound Cable Weight Rating
Built-In Storage Space
Quick Assembly
Limited Lifetime Structural Warranty
Dimensions of the Force USA G3
When fully assembled the All-In-One Trainer measures 80 inches wide, 55 inches deep and 87 inches high. This particular trainer has a 2:1 pulley ratio with 100 pounds loaded and a resistance of 50 pounds. The weight training capacity for the unit is 992 pounds, while the weight rating for the Smith machine is 772 pounds and the cables are rated at 2000 pounds.
Top 5 Reasons to Buy the Force USA G3
The Force USA G3 All-In-One Trainer is a versatile machine that makes an excellent addition to any home gym.
By combining five machines into one system, you never have to go to the gym again in order to get the work out you desire. Rather, you can get a quality workout at home without taking up too much space.
Therefore, the top five reasons to purchase this model are the five machines that you receive combine into one of the best All In One home gym packages. These include:
Chin Up Station: Boating a 771 pound weight rating, the ergonomically designed multi-grip chin up and pull up station accommodates classic grip, wide grip, hammer grip, pronated grip and narrow grip.
Core Trainer: Suited for all types of rotational torso training, the core trainer features an attached landmine station and allows for a wide range of upper body training when used along with a barbell (sold separately).
Functional Trainer: Offering adjustable positions, the trainer allows you to perform more than 75 different exercises including those that target your arms, shoulders, chest, back, core and legs.
Power Rack: Includes commercial-grade J-Hooks and Safeties that can be adjusted to any height position you desire. With its Westside hole spacing offering 50 different numbered adjustment points, you can perfectly position your spacing for users of all sizes to perform bench presses, squats and more.
Smith Machine: Angled to suit your natural body movement, the machine is able to provide you with a safe and strong workout at any height position you need. The Smith Machine utilizes only Olympic-sized plates.
Overall, this all-in-one trainer helps you save money and space by combining several different machines into one. By eliminating the need for multiple machines, you are able to pursue a variety of training options with just one machine. Training options available with the Force USA G3 All-In-One Trainer include bodybuilding, compound or isolation, concentric or eccentric (negative) training, glycolytic efficiency, muscular endurance, plyometric, power, slow twitch or fast twitch fibers training, and strength.
Force USA G3 Summary
The Force USA G3 All-in-One Trainer is an effective alternative to going to the gym or purchasing multiple machines for your home gym. With this trainer, you have the ability to perform all of the same exercises that you would typically do at a commercial gym, but it allows you the flexibility and convenience of exercising at whatever time is best for you. By eliminating the need to travel to a commercial gym, you save both time and money while maintaining the flexibility to switch your training style to meet your evolving fitness goals.
No matter your height, you will be able to configure this trainer to suit your height and fitness goals. According to one user who self-reports being 6 feet 6 inches tall, it is still possible to "get a good range of motion" with the trainer. The user goes on to report that "the landmine attachment is excellent" and that "the handle gives you a nice secure way to hold the bar".  Another satisfied customer was thrilled to "build an economical home gym that was easy on space" with this trainer. The user goes on to say that "it is so nice skipping crowds" and being "able to accomplish 95% of what is available in a typical gym and more," making the trainer "well worth the price".
Customers regularly comment on how easy the trainer is to assemble, with most only needing a few hours to accomplish the task. In addition, many have found the "extras" to be quite convenient, such as the plate storage on the back that one customer describes as being "a nice touch and comes in very useful".
Force USA G3 Reviews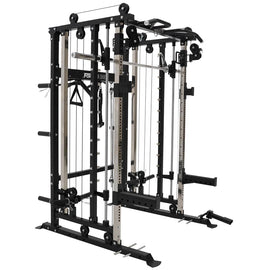 Force USA G3 All-In-One Trainer
Order Now