Force USA G12 Reviews
Available in three different colors, the Force USA G12 All-In-One Trainer is similar to the G6 in that it offers a 9-in-1 strength training system, but it is different in that it is constructed for professional use, takes up less space and offers a counterbalanced Smith Machine.
As such, it is the ideal choice for professional athletes or anyone else who is looking to take their workout routine to the next level.
What's Included in the Box?
While the weight plates are sold separately with this trainer, you otherwise get everything that you need to get started on your workout routine with this machine. Items included in the box are:
Barbell Storage
Core Trainer
Exercise Chart
J-Hooks with Rubberized Inserts
Knee Support for Lat Pull Down
Lat Pull Down Bar
Leg Press
Multi-Grip Dip Handles
Olympic Lock Collars
Olympic Sized Weight Plate Holders (x6)
Safety Spotting Arms with Rubberized Inserts
T-Bar / V-Bar Row
Weight Stacks (2 x 201 pounds)
Key Features of the Force USA G12 All-In-One Trainer
This trainer offers a number of features that make it stand out against the competition. Some of these key features include: 
9-In-1 Strength Training System

Chin Up Station
Core Trainer
Dip Station
Functional Trainer
Leg Press
Low Row
Power Rack
Counterbalanced Smith Machine
Suspension Trainer

Over 300 Exercise Variations Possible
Built-In Storage Space
Space-Saving Design
Quick Assembly
Limited Lifetime Structural Warranty
Dimensions of the Force USA G12 All-In-One Trainer
The G12 offers a space-saving design that is slightly shorter than the G6 and is ergonomically designed to fit into a wider variety of spaces. Assembled, this model measures 79 inches wide, 49 inches deep and 90 inches high while still maintaining an interior working space of 43 inches wide, 34 inches deep and 89 inches high.
The Force USA G12 All-In-One Trainer also has a 1:1 pulley ration, which means if you have 100 pounds loaded on the machine, you will receive a resistance of the full 100 pounds. The unit itself has a weight rating of 992 pounds, while the Smith Machine is rated for 771 pounds and the cables are rated for up to 2,000 pounds.
Top 5 Reasons to Buy the Force USA G12 All-In-One Trainer
With all at this machine has to offer, there are many reasons to choose the G12 for your home gym. The top five reasons to buy this machine include the following. 
Professional Quality: This trainer is engineered for professional use, which means it is a commercial-grade machine made from heavy-duty construction. The wider space and the counterbalanced Smith Machine allow you to take your workout to the next level while also making it a good choice for any setting where the machine will be used regularly or by multiple users. Meanwhile, the counterbalanced Smith Machine allows you to lift the true weight of the bumper plates without having to account for the weight of the bar.
Customizability: Providing the ability to complete 300 different exercises all with one machine, the G12 allows you the versatility to customize your workout. The Power Rack features adjustable J-Hooks, thereby allowing you to vertically adjust heights when lifting or squatting. Similarly, the pulley system can be easily adjusted vertically with just one hand. Even the multi-grip Chin Up Station allows for customization with its 771 pound weight rating and its ability to accommodate classic grip, wide grip, hammer grip, pronated grip and narrow grip. Similarly, the Dip Station features a multi-grip dip handle attachment that provides different width options and can be easily adjusted on the power rack to accept weight belts or resistance bands.
Versatility: With this all-in-one trainer, you can quickly switch from functional training to strength training without wasting unnecessary time. Whether you want to perform cable resistance training that connects to your stack weights or you want to do barbell training with loaded plate weights, you can easily and seamlessly included both in your workout.
Full Body Workout: With its 9-in-one design, this trainer allows you to workout virtually every muscle in your body. The Vertical Leg Press includes an attachment that allows you to either use the bench or workout on the floor when hitting your leg muscles, while the Core Trainer includes a landmine station that is well-suited for rotational torso training You can also include a full range of upper body training with your workout when you purchase an optional barbell to use with your machine. Meanwhile, the Low Row machine's footpad can be easily combined with the cable pulley system to deliver a full-body workout that mimics the same motions as rowing a boat in the water.
Safety Features: Boating a wider cage than other machines on the market, this trainer offers even more stability and safety. Meanwhile, the dual cable pulley system features aircraft grade cables with a 2,000 pound capacity. The Smith Machine is also fitted with safe lock and release as well as a safety catch, thereby allowing you to max out your training without needing a spotter. 
Force USA G12 All-In-One Trainer Summary
This trainer is ideal for anyone who is looking for a space-saving option that will allow them to bring the commercial gym to their home. Training options available with this trainer include bodybuilding, concentric, eccentric (negative), fast twitch fibers, glycolytic efficiency, isolation, muscular endurance, plyometric, power, slow twitch, and strength training.
Made from extremely heavy gauge structured rolled steel tubing, this trainer offers commercial-grade quality that you can afford. According to one satisfied customer, the G12 "is the top level commercial gym type of machine you've always dreamed of for your home gym". This same user went on to say that the machine offers "top quality engineering, machining, welds and usefulness". 
Another user claims to be "very impressed with this unit" and says that the "build quality along with innovative features make this a home run". One satisfied customer who runs a PT clinic  says "this do-all machine does everything I need".  That same customer went on to say, "I'm very happy with the unit as well as the patience and support I received from the company". Simply put, you can't go wrong with the Force USA G12 All-In-One Trainer!
Force USA G12 Reviews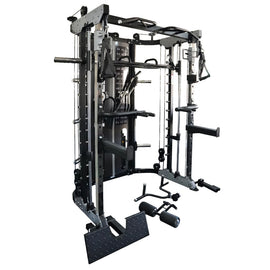 Force USA G12 All-In-One Trainer
Order Now